Apr 27, 2022
Make the Grade with PricePoint Portal Scorecards
By Ryan Keintz
I'm excited to announce that we've made a notable upgrade to our PricePoint® Portal Scorecards. Our quarterly scorecards are a key feature of the PricePoint Portal ecosystem and a primary way that we provide ongoing feedback to clients and their movers to help level set their moving program. Everyone can see how their moving program spend compares against the market average and fine-tune their program in areas when needed.
Because scorecards are such a critical component of Portal, I wanted to provide some context behind why we decided it was time to update our scorecard grading process as well as give the details of how our new scoring system works.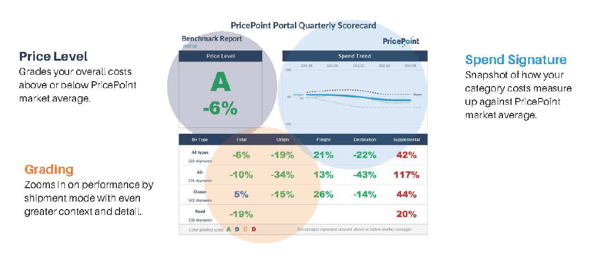 PricePoint scorecards show you how your moving program measures up so you can keep it on the right track.
Our Motivation for Change
Price-competitive, quality-conscious
Quality control is tenuous in the moving industry. Movers strive to deliver professional, quality services every day, but the industry does not have a clear, established relationship between price and quality. Unlike objective differences between a 3-star vs 4-star hotel, or buyer reviews on Amazon, the correlation between price and quality is more nebulous and opaque in the moving industry. PricePoint is working on solutions for this dilemma, but in the meantime it's up to each move buyer to be quality-conscious when managing price.
When you make price the constant priority, quality becomes the variable, guaranteed. That's why we are strong advocates for dynamic pricing over contract pricing. Conventional corporate/RMC RFPs use contracts to lock in pricing that is untethered from the real market. These methods incentivize a blind, downward pressure on supplier pricing in order to win the deal. Once RFP pricing is locked in place via multi-year contracts, suppliers then have to absorb any cost inflations that occur over the three to five year period. This inevitably impacts quality, as suppliers must recuperate their costs somewhere.
Bottom line, we all need to factor in quality as we manage and benchmark move pricing.
The Scoring Squeeze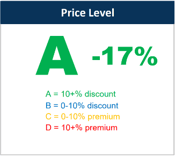 Up until now, we have based our A-B-C-D grading scale for benchmarking invoices on being within 10% increments of the market averages. We chose this number based on our experience of what a large-volume corporate buyer should expect and be satisfied with, without being detrimental to quality.
Here's the rub... A core function of PricePoint Portal's dynamic pricing model is price discovery. Our ecosystem enables a free market with properly aligned incentives to enable market forces to determine fair pricing. We aid this with transparency. We provide movers their quarterly price benchmarks based on their PricePoint-invoiced moves, broken down by geography, shipment type, and cost component. This benchmarking gives movers unprecedented insight and visibility into where their pricing is or isn't competitive.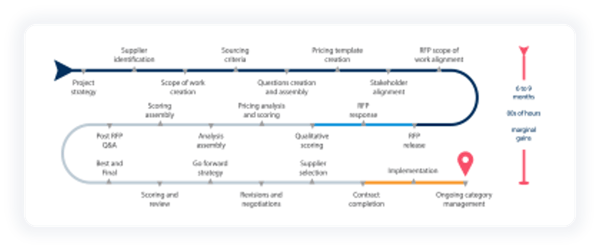 An RMC's supplier performance relative to the market averages segmented into the industry's natural categories of origin, freight, destination, supplemental, and coordination services.
Over time, we've seen suppliers coalesce around the competitive pricing threshold for each geographic market. With market average pricing moving incrementally downward and closer together, it becomes increasingly difficult for suppliers to maintain discount levels respective to the market. This makes A-level pricing increasingly difficult to achieve and puts pressure on suppliers to keep lowering their pricing at the sacrifice of quality in order to keep their ideal grade.
Freight (Shock) Waves
Externally, the current supply chain crises have had a tsunami effect on freight cost volatility. Meanwhile, inflation and global conflict are certain to act like an amusement park wave pool, making the moving environment even more tumultuous for the foreseeable future. These two charts from our PricePoint Portal data are an unequivocal demonstration of why fixed contract pricing is no longer viable.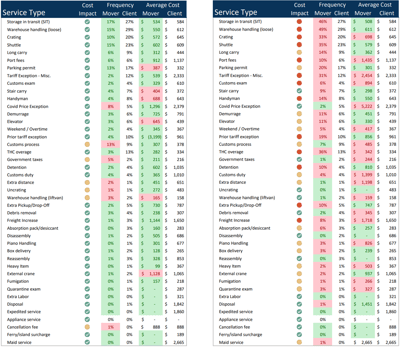 Regional differences in the change of freight prices over the last two and half years.
The Net Effect
Two years ago, the collective benchmark score for our entire client pool was at 17% below market average. That has gradually pulled down to a 2022 Q1 level (not shown) of 5% below market average. In other terms, roughly 60% of movers using PricePoint Portal achieved A-level pricing pre-COVID. Now it's down to 30%. Understandably, people could perceive this incorrectly as degrading performance. In reality, the worsening grades are due to the distorting effects of the previously discussed price shocks coupled with the maturation of the markets finding their competitive price thresholds.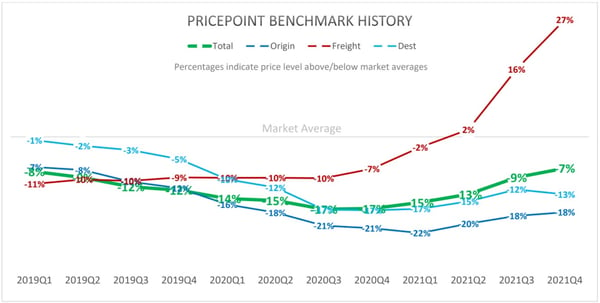 Market averages within PricePoint naturally coalesce within the system, independent of external market pressures such as freight.
The New Portal Benchmarking Scorecard Methodology
Using that tsunami metaphor again, imagine price benchmarking as a buoy on the ocean. When a wave rolls through, the buoy rises with the surface. Ideally, a price benchmark would do the same when waves of cost volatility roll through. To better achieve that ideal, we need to insulate the measurement components from the distortions.
Because we record data according to the industry's natural categories of origin, destination, freight, and coordination, we can identify the source of price volatility – particularly as it varies by geography, shipment type, and cost component. Over the last two years, price remained remarkably stable for origin, destination, and coordination services, whereas volatility has been quite significant in freight and supplemental services. Therefore, our benchmarking solution needs a more insightful and responsive grading mechanism, one that is flexible according to these various dimensions rather than rigid 10% bands across the board.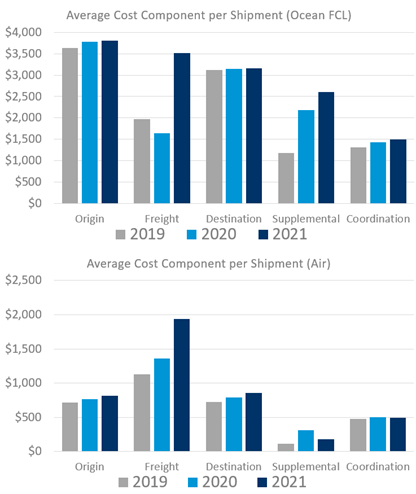 PricePoint Portal users were able to consistently manage their origin, destination, and coordination services throughout logistical crisis of the last two years. Freight and Supplemental areas suffered significant impacts, as movers were forced to respond to external supply chain pressures.
To address this, we will continue to benchmark prices against market averages to compare performance across clients and their suppliers. However, instead of using deviations from the overall market average, we now take the median score of each category and treat that median as the new A-level threshold for each category. In effect, A-level pricing is the top half of the class for each category. In other words, if suppliers are outperforming at least half of their peers, they earn an A. By giving more flexibility in our grading for the top half of each category, we can neutralize the collective distorting effects of volatility. As freight volatility distorts the measurement, it distorts for all, so we grade on the curve accordingly.
Subsequent B-C-D grades will radiate outward in 10 percentage-point bands from the new flexible A-level thresholds just as before. For example, a supplier's performance may fall just outside the top half of the class, but by less than 10 percentage-points. This warrants a solid B grade which indicates proximity to the top tier, whereas C-D grades highlight greater distance from market norms and may warrant remediation efforts. It's worth noting that larger volume corporate/RMC clients may rightly expect A-level pricing as a form of volume discount, whereas smaller clients may reasonably expect B-level pricing from their lesser purchasing power. (Translation: smaller corporate buyers should consider using RMCs who can pool purchasing power, and those RMCs should use PricePoint to effectively leverage that purchasing power).
This recalibration will serve to level-set PricePoint Portal's network once again and allow those movers who are not only responsible with their pricing, but also their supplemental charges and frequency, their on-time response, and their consistency, to be fairly rewarded.
As always, we welcome your questions or feedback as we continually refine the model.
Are you an current Portal user interested in receiving our quarterly scorecards or monthly dashboards?

Ryan Keintz
Founder and President. After a career pricing for the largest international movers, Ryan observed that price manipulation was a more critical success factor than customer service or logistical expertise. He created PricePoint to fix a broken system.