Jan 27, 2022
We Can't Afford to Keep Moving the Same Way
In November, 2021, PricePoint hosted a webinar together with Scott Ferree, VP Sales and Marketing at MiniMoves and Frederic Delahaye, President and Founder of Go-Group. The panel shared their perspectives on what made 2021 so challenging for household goods moving and how the mobility industry can prepare for a better 2022.

Here is a recap of the discussion, which was recently published in the January/February issue of IAM's The Portal Magazine. You can listen to the full recording of the webinar here.
2021 was one for the record books by just about every measure. There were far more families wanting to move than there were movers to serve them. The trucks that were supposed to move people from point A to B weren't available. If you were relocating overseas, heaven help you. Many families weren't simply moving from A to B; they were moving from A to temporary accommodation for an indeterminate period of time before moving to their final destination. There were fewer drivers and even fewer laborers to help carry the load. In terms of scheduling and logistics, people weren't moving into cities, they were moving out of them, meaning that qualified moving labor was even more difficult to find at destination. Some people sold most of their belongings and moved only the bare minimum, or put their belongings in long-term storage. Warehouse capacity backed up. The COD move–once the bottom of the heap–became the most lucrative for movers, with desperate consumers offering surplus cash in order to secure their move. Even rock-steady military volumes were skewed with a heavy demand for short-fuse moves.
In short, just about anything that could have gone sideways, did. Can we handle another year of this, or can we adapt the model to work better to keep move partners whole? PricePoint is fortunate to work with some of the best moving and mobility companies in the world. We strive to help move partners and their clients find solutions to make moving better. Here is some of what we've learned this year.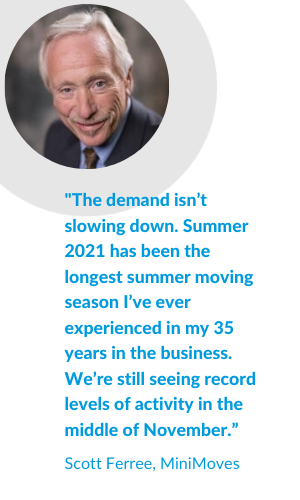 At the time of writing, peak season is just starting to drop off–but only just. The volume of moves being booked through PricePoint's system in Q3 is nearly double that of what's typical for this time of year. This ongoing pressure gives movers very little time to recover, plan, or hire staff to properly set themselves up for 2022. Analysts also expect that we will continue to be choked by the container backlog for months to come, putting the mobility industry at a significant disadvantage. Successful partners in our network have chosen to right size their networks, work with likeminded suppliers to deliver on collective strengths, and diversify their supply chains to provide much needed flexibility to manage the unknowns that lie ahead.
Labor remains the issue among movers that we talk to. Those who've been in the moving industry long enough to have lived through the market crash of 2008 believe we had just started to recover from the loss of drivers and skilled workers prior to COVID. With this already tenuous footing, increased wages and retention bonuses were some of the incentives used by companies to keep their drivers on board this year. Moving companies were competing with just about every other industry needing qualified drivers, from freight to couriers. But drivers weren't the only labor challenge.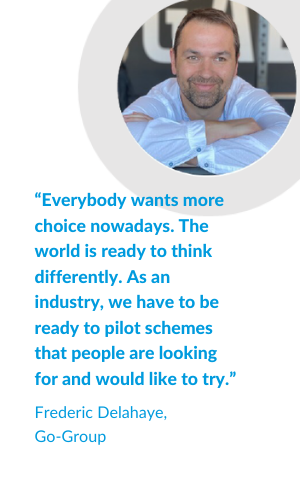 Move coordinators–the backbone of moving operations–faced a much higher responsibility, stress, and increased workloads in 2021. Having to adapt to a constantly changing supply chain created approximately 50% more work per file. As long as HR and hiring remain significant issues, consider deploying technology to do some of the legwork for your team, and use your data and analytics effectively.
The only thing that's certain is more uncertainty, so managing client and transferee expectations will remain critical to maintaining a healthy relationship. Capacity crunch, labor cost increases, increased operational time, materials costs, freight increases, fuel increases–these are the realities that movers live with every day. The better you can manage the customer's experience and expectations, the better off everyone will be.
Given all this upheaval, it's no surprise that consumer moving became the most profitable business over the past two years. Pricing in the consumer market is dynamic and easy to change. By contrast, military, government, and corporate business typically utilize negotiated contract pricing, and those contracts will need to adjust to be attractive and profitable business for movers. There is no possible way to predict what's to come in 2022, but as an industry, we saw costs go up, and that means pricing needs to go up. And while it's hard to raise your rates, the right combination of transparency, data, and insights can help justify the increase.
We can't afford to keep moving the same way. Movers need to be profitable, customers want better performance, and we're all dealing with more change than ever. Through innovation, adaptation, and leveraging data and technology appropriately, we can all make 2022 a better year.
Put PricePoint's business intelligence in the center of your mobility management decisions. Get in touch for a free industry benchmarking report.

Jessica Petzel
As PricePoint's sales leader, one of Jessica's primary roles is supporting our partners with their business development. She brings RMC and household good agent perspectives to the table with a background in sales, supplier development, and international operations.